Main features
•Viewing data from one or several OPC simultaneously;
•Displaying the value of an OPC tags with the help of various indicators;
•Different indicators for different types of OPC tags (logical values, strings, integers and fractions);
•Customizable visualization parameters for each image.
•Creating several pages with different sets of indicators.
The main window of the program is displayed on the screen after the program is started (fig.1). The image below shows the features of the program and explains what this or that part of the window is for.
Interface
1.Menu bar - the main menu of the program described in the "Menu" section;
2.Toolbar - this bar contains buttons for the most frequently used features;
3.Tabs where you can put together several indicators as a group. You can use the "Edit - New Tab" menu item to add a new tab;
4.The background image that may contain a technological process. You have to prepare the background image in another program;
5.Indicator - it shows the current value of the OPC tag in this or that form. You can find how to create and configure indicators in the "Visualization block" section;
6.The log bar of the program where you can see messages about current operations;
7.Status bar - it shows the current time, the status of the program or the current operation.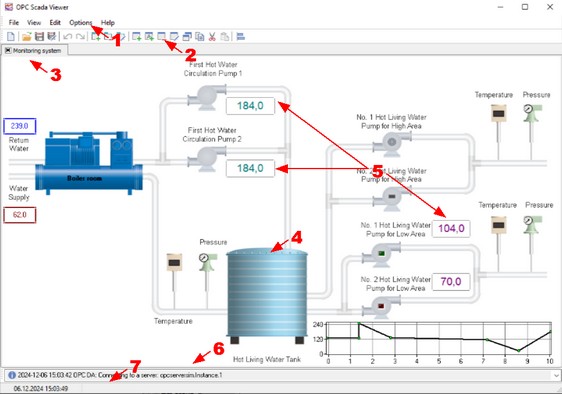 Fig.1 Main window
Most menu items and toolbar buttons have a tooltip. For example, if you move the mouse pointer over a toolbar button, you will see a tooltip (fig.2).

Fig.2 Interface item tooltip
First steps
To configure the program, you should:
2.Add one or several indicators on the tab;
3.Configure the parameters of each indicator.