For Windows 2000 - Windows 8 (2012) (incl. Server, x86 and x64). Latest version: 3.0.5 build 425. April 25, 2013.
Screenshot: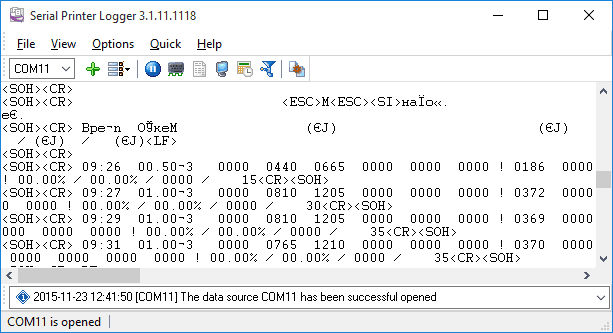 More screenshots
Features:
Serial Printer Logger is based on an engine of our favorite product Advanced Serial Data Logger and therefore inherits all base features of this software, but apart from Advanced Serial Data Logger that works with serial ports (RS232 or RS485) only Serial Printer Logger works with RS232, TCP/IP or UDP ports and sockets.

Capability to log multiple ports at same time. Our data logger has the capability to log multiple ports simultaneously so that multiple dot-matrix printers can be logged. Each port may have fully different settings;

Universal. Supports most ESC/P and ESC/P 2 control codes, except custom characters;

Extended logging features. Outputs received data without any changes to a log file at real-time. Supports date/time stamping. Supports custom baudrates;

Customized fonts. Different fonts types and sizes. Can use ESC/P or ESC/P2 control code for fonts selection;

Customized paper size. Supports various paper sizes: A4 210 x 297 mm, A5 148 x 210 mm, Letter 8 1/2 x 11 in etc.;

Various graphics. Captures and decodes bitmap or raster graphics. In a PDF file graphics will be compressed for a smaller file size;

PDF. Exports captured from a dot-matrix printer data to ready-to-use Adobe PDF at real-time;

Microsoft Word. Exports captured from a dot-matrix printer data to ready-to-use RTF file, including graphics;

Program message logging - writing to a file all program messages, so you may diagnose errors and warning;

Plugins. Plugin modules that extending program features;

Simple, menu-driven step by step set-up Programming is not required to configure the software to collect data;

Various OS. Works on all Windows versions 9x/Me/NT/2000/XP/Vista, including x86 and x64 platforms.

Windows service mode. Unlike most other serial logging applications, Serial Printer Logger can run as a service so that it starts as soon as the operating system starts and doesn't require a user to log in and run it. It will continue to run even as users logon and logoff the workstation.

It is extremely easy to use! The configuration process is fully menu driven and has complete, context sensitive, on-line help. You can easily customize all input to your exact specifications. Once you see how easy it is to use Serial Printer Logger, you will never again take data readings by hand!