Basic essentials:
•When using TCP Splitter, you don't need to reboot the computer. You can create, establish, or remove connections in real time.
•You can split data streams for a few IP ports at once.
•TCP Splitter can be automatically launched as a service or as a desktop application. If the TCP Splitter service is already running, the second instance of TCP Splitter will run as a desktop application in the configuration editor mode. The second instance cannot display data transmission statistics.
As soon as you launch TCP Splitter, its main window will appear (Figure 1). You can use it for configuration purposes. Below you can see the TCP Splitter main window, which consists of a few areas.
1.

Main menu

. For more details about its commands, see the Menu section of this Help.
2.

Connection list

shows all existing connections, including their status.
3.

Startup mode

is an option that allows you to select the automatic startup for TCP Splitter (it will be launch automatically after Windows starts) or keep the manual startup mode. As soon as TCP Splitter starts, it will automatically establish all the necessary connections.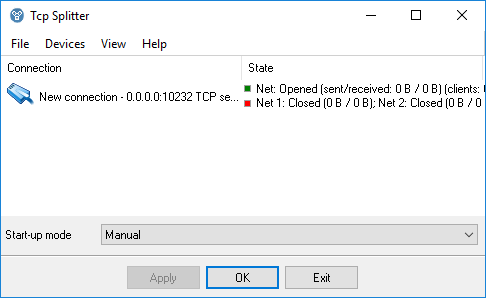 Figure 1: The TCP Splitter main window
The main menu contains the following commands: File, Devices, View, and Help. Below you can find a description of each menu. You can use hotkeys to invoke some commands (see thisHelp section). Each menu item usually contains brief information about the corresponding hotkey and toolbar button.
After adding a new connection, click the "OK" button in the connection settings dialog box to apply all changes. The "Status" column displays the connection status for the incoming data stream and for all activated post-split directions.
Please note that your firewall may block TCP Splitter's operation. If you see a firewall alert asking you if you want to allow access for TCP Splitter, make sure that you allow it (Figure 2). If no alert is displayed, check your firewall's settings.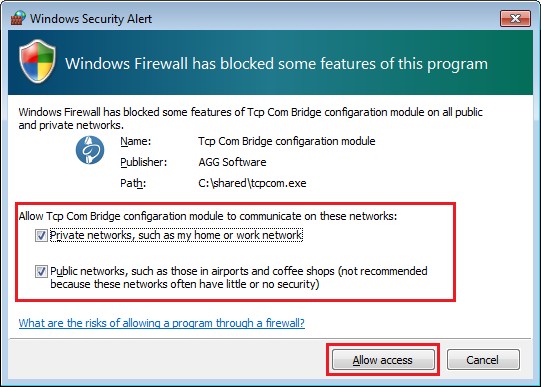 Figure 2: A firewall alert