This tab contains the list of TAPI devices. The content of this tab depends on a TSP driver for your PBX. It can be a PBX, trunks lines or extensions. To enable monitoring a device, select it in the list. Note that a device can be compound, i.e. one physical device may represent several logical devices. The "TAPI lines" list contains logical devices.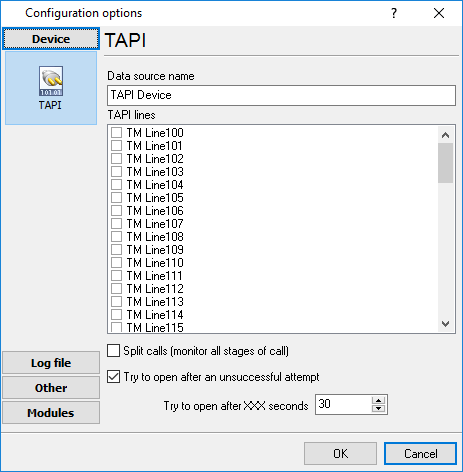 Fig.1 TAPI lines list
Split calls – This feature allows to produce records for each stage of a call (e.g. begin, dialing, ringing). Call splitting is not necessary to receive a record on each transfer. The transfer will be logged automatically.
Try to open again after a failed attempt – if this option is enabled, the program will wait till the device appears and automatically start logging data from it in case the TAPI device is connected and disconnected periodically.