For Windows 2000 - Windows 11 (2019) (incl. Server, x86 and x64). Latest version: 2.7.4 build 303. March 3, 2020.
Screenshot: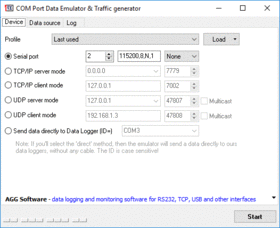 More screenshots
Features:
Universal. COM Port Data Emulator supports COM, RS232, RS485 (with a converter), TCP/IP, UDP ports;

Full duplex mode. The program can read and receive data at the same time (exclude RS485);

Flexible configuration. Our emulator supports the miscellaneous baud rates (up to 115200), the number of data bits, the number of stop bits, different types to parity, flow control types, and others;

Flow control. Supports flow control for COM and RS232 ports;

Client/Server. The software can operate as a client and a server over TCP/IP;

Free data source. The emulator can read a data stream from a text or binary file;

Protocol files. COM Port Data Emulator can create a log file with data sent;

Visualization. The program displays line status (COM and RS232) and communication errors and logs sent and received data.