For Windows 2000 - Windows 11 (2019) (incl. Server, x86 and x64). Latest version: 3.5.4 build 913. September 13, 2022.
Screenshot: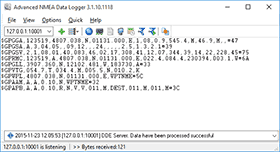 More screenshots
Features:
Capability to log multiple ports at the same time. Our data logger can log numerous ports simultaneously so that multiple external serial devices can be logged. Each port may have fully different settings;
Universal. Supports all talker types (GPS, Heading, Velocity sensors, etc.);
AIS (Automatic Identification System). The program can decode AIS messages, and you can export any value from AIS data;
Variable data receive. Captures all standard NMEA-0183 sentences and some proprietary sentences for Garmin, SiRFand StarLink devices;
NMEA 2000 data logging. NMEA2000 can be indirectly captured with the use of an NGW-1 gateway from Actisense. NGW-1 converts NMEA2000 PGN's to NMEA0183;
Extended logging features. Outputs received data without any changes to a log file. Supports date/time stamping Supports custom baud rates;
Aggregation. Supports aggregation of multiple sentences to one data record;
Advanced data parsers. Allow you to parse, filter, and format your data. You may define simple rules or use powerful regular expressions;
MS Excel. Data export to ready-to-use MS Excel files;
Databases support. Data export to any ODBC-compatible database (MS SQL, Oracle, MS Access, MySQL, PostgreSQL, and others);
Industrial real-time export capabilities. Advanced NMEA Data Logger can run as DDE or OPC server and can public all received data;
Program message logging - writing to a file all program messages so that you may diagnose errors and warning;
Plugins. Many plugin modules that extend program features;
Simple, menu-driven step by step set-up Programming is not required to configure the software to collect data;
Various OS. Works on all Windows versions from Windows 2000, including x86 and x64 platforms.
Windows service mode. Unlike most other serial logging applications, Advanced NMEA Data Logger can run as a service to start as soon as the operating system starts and doesn't require a user to log in and run it. It will continue to run even as users logon and logoff the workstation.
It is extremely easy to use! The configuration process is fully menu-driven and has complete, context-sensitive, on-line help. You can easily customize all input to your exact specifications. Once you see how easy it is to use Advanced NMEA Data Logger, you will never again take data readings by hand!
NMEA®, NMEA 2000®, and the NMEA 2000 logo are registered trademarks of the National Marine Electronics Association. All trademarks mentioned here are used only for definition and identification purposes.