For Windows 2000 - Windows 11 (2019) (incl. Server, x86 and x64). Latest version: 1.1.2 build 1003. October 3, 2023.
Screenshot: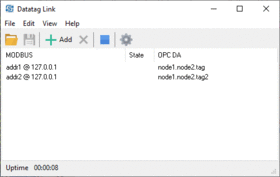 More screenshots
Features:
No borders. Connecting to OPC DA, OPC UA, MQTT, SQL, or MODBUS servers in any combination. Bridging multiple interfaces, i.g. MQTT-OPC, OPC-SQL, etc.
Many tag links. Adding up to 65,000 tags to enable synchronization in one application.
OPC DA. The OPC server for the well-known standard with a hierarchic tag structure.
OPC UA. Supporting secure connections, as well as operation via the Internet.
SQL. Supporting all widely used databases (SQL Server, MySQL, PostgreSQL, MS Azure).
SQL. Simple logging of data sources in SQL. You can select a table and column, or specify your custom SQL query, or call a stored procedure.
MQTT. Supporting simple values and those valid in JSON.
MODBUS. Supporting MODBUS TCP and MODBUS RTU connections.
SQL-MODBUS. Linking databases and industrial equipment.
History data. Data logging of all processed values into a CSV file.
Real-time. Our software makes all conversions on-the-fly, without any delays.
High-speed. All links may work in a parallel and optimized to work at maximum speed.
Service mode. Supporting automatic startup and running as a background service, establishing communication between sources even before the user logs into the system.
Various OS. Works on all Windows versions 2000+.
Easy-to-use. Configuring all parameters in the dialog mode.
Online help. Press the F1 key at any time and online help will appear, providing full and up-to-date documentation.