For Windows 2000 - Windows 10 (2019) (incl. Server, x86 and x64). Latest version: 4.4.2 build 911. November 12, 2019.
Screenshot: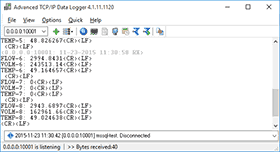 More screenshots
Features:
Capability to log multiple TCP/IP or UDP ports at same time Our data logger has the capability to log multiple ports simultaneously so that multiple external serial devices can be logged;
Universal. Can work as a server or a client;
Variable data receive. Supports text, raw, binary data and protocols;
Extended logging features. Sent and received data output without any changes to file. Variable format file forming setting (on time, data, size and etc.);
Advanced data parsers. Allow you to parse, filter and format your data. You may define simple rules or use powerful regular exressions;
Databases support. Data export to any ODBC- or SQL-compatible database (MS SQL, Oracle, MS Access, MySQL and others);
Industrial real-time export capabilities. Advanced TCP/IP Data Logger can run as DDE or OPC server and can public all received data;
Office products integrations. Advanced TCP/IP Data Logger can use direct connection (using OLE) to Microsoft Excel and write data directly to rows or columns;
Auto program restart in showed time. Allows you to change the program configuration remotely;
Program message logging - writing to a file all program messages, so you may diagnose errors and warning;
Plugins. Many plugin modules that extending program features;
Simple, menu-driven step by step set-up Programming is not required to configure the software to collect data;
Various OS. Works on all Windows from Windows 2000.
Windows service mode. Advanced TCP/IP Data Logger also is a Windows service that records all data received on a serial port to a file on a disk or to other targets so that it starts as soon as the operating system starts and doesn't require a user to log in and run it. It will continue to run even as users logon and logoff the workstation. However, Advanced TCP/IP Data Logger is generic enough to be useful whenever one-way serial traffic needs to be recorded.
It is extremely easy to use! The configuration process is fully menu driven and has complete, context sensitive, on-line help. You can easily customize all input to your exact specifications. Once you see how easy it is to use Advanced TCP/IP Data Logger, you will never again take data readings by hand!