For Windows 2000 - Windows 11 (2019) (incl. Server, x86 and x64). Latest version: 1.4.5 build 303. March 3, 2020.
Screenshot: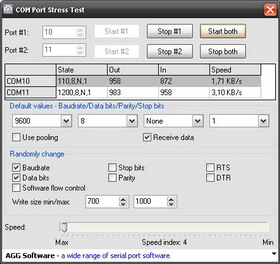 More screenshots
Features:
Universal. COM Port Stress Test supports supports COM, RS232, RS485 (with converter) ports;
Virtual serial ports. The program can test virtual serial ports, usb serial ports, virtual serial port drivers;
Up to two ports. This software can test two RS232, COM ports at the same time;
Read/Write. COM Port Stress Test can read/write a data stream from/to a COM port;
Flexible configuration. Our software can can randomly change communication parameters (baudrate, number of databits, number of stop bits, parity, flow control);
RTS/DTR. The program can change RTS or DTR randomly;
Write buffer. You can configure the size of a write buffer;
Configurable the load. You may configure a load value;
Visualization. The program displays in/out speed and bytes count for both ports.