For Windows 2000 - Windows 10 (2019) (incl. Server, x86 and x64). Latest version: 2.8.9 build 710. July 10, 2020.
Screenshot: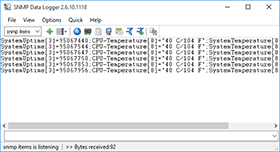 More screenshots
Features:
Multiple SNMP agents. Capability to log data from multiple SNMP agents at the same time. You may use fully different connection and data export settings for each agent.
SNMPv1, SNMPv2c, SNMPv3. Our software supports all data types of the Abstract Syntax Notation One (ASN.1) and uses GetRequest, GetNextRequest requests to retrieve data.
MIB-II support. Can retrieve variable name list from a remote device.
Extended logging features. Can output received data to formatted log files. Supports date/time stamping.
Performance. Fast multi-threaded, optimized and efficient architecture.
Data filters. Allow you filter, format, aggregate your data. You may define simple rules or use powerful regular expressions.
Real-time export capabilities. SNMP Data Logger can run as a DDE or OPC server and export SNMP data to other applications.
Microsoft Excel. Data export to ready-to-use MS Excel files.
Databases support. Exporting data to MSSQL, Oracle, MySQL and many other ODBC-compatible databases.
Plug-ins. Many free plug-in modules that are extending program features.
Simple, dialog-driven step by step set-up Programming is not required to configure the software to collect data.
Various OS. Works on all Windows versions from Windows 2000, including x86 and x64 platforms.
Windows service mode. Unlike most other serial logging applications, SNMP Data Logger can run as a service so that it starts as soon as the operating system starts and doesn't require a user to log in and run it. It will continue to run even as users logon and logoff the workstation.