For Windows 2000 - Windows 11 (2019) (incl. Server, x86 and x64). Latest version: 1.6.1 build 1028. February 26, 2022.
Screenshot: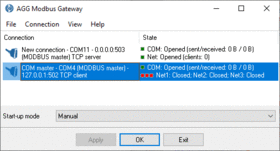 More screenshots
Features:
No borders. You can create many connections with different connection settings. For example, you can serve mutilple RS-485 buses.
MODBUS address mapping. When converting exchange protocols, the program can replace a MODBUS network address of the device according to the specified rules.
Sharing MODBUS devices. When converting MODBUS TCP into MODBUS RTU, you can arrange simultaneous access of two MODBUS master devices to one MODBUS slave device.
IP mapping. When converting RTU into TCP, the program allows you to specify which IP address to connect to for each MODBUS device.
DNS. When accessing the Internet, the program can handle dynamic IP addresses by using a domain name.
Real-time. Our software makes all conversions on-the-fly, whithout any delays.
High-speed. All network connections are optimized to work with MODBUS protocols at maximum speed.
Scalable. Data can be transmitted over TCP and UDP protocols both on the local network and over the Internet. On the Internet, the program can work with dynamic IP addresses using a domain name.
Local connections. You can also create local connections within a single computer.
Service mode. MODBUS Gateway can be automatically launched as a service and set up network connections before any user logs on to the system.
Various OS. Works on all Windows versions 2000+.
Easy-to-use. MODBUS Gateway software has a simple, menu-driven step by step set-up.
Online help. Press the F1 key at any time and on-line help will appear, providing concise and up to date documentation.