For Windows 2000 - Windows 11 (2019) (incl. Server, x86 and x64). Latest version: 2.11.5 build 1115. November 15, 2023.
Screenshot: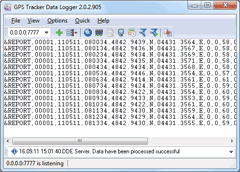 More screenshots
Features:
Various types of GPS trackers. Receiving, processing and exporting data from a lot of various GPS trackers at the same time;
Universality. Receiving and processing binary and ASCII data packets;
Receipt confirmation. GPS Tracker Data Logger can send data receipt confirmation packets to the GPS tracker;
Advanced log file configuration. Logging received data to a file without any modification. A wide range of formatting log files (by time, date, etc.);
Conversion. It is possible to convert data from all trackers to one format and retransmit them to another server (on request);
Export to databases. Exporting data in real-time to any ODBC-compatible database (MS SQL, MySQL, Oracle, MS Access, Interbase, Firebird, and others);
Integration. Plug-ins for writing to databases can work with tables of any structure. For special purposes, it is possible to write custom SQL queries, for example, for writing data to with the help of stored procedures;
Fault-tolerant export to a database. For an additional fee, you can purchase the plug-in for exporting data to MS SQL, MySQL, Oracle, Interbase, Firebird that directly connects to the necessary database without additional drivers and allows you to save data if the database is temporarily unavailable;
Interfaces for receiving data. GPS Tracker Data Logger can work as a DDE or OPC server and pass all received data to other applications in real-time;
Data filter. The set of filtering plug-ins allows you not to write unnecessary data to the database or the log file. It is possible to specify complex conditions for filters with the help of scripting languages;
Data modification. Additional plug-ins allow you to use formulas to calculate, correct and modify data before it is written to a database;
Windows service mode. GPS Tracker Data Logger can also run as a service under Windows 2000 and higher. It allows the program to receive and process data in the background mode right after the operating system is started and before the user logs in. The program keeps running after the user logs off;
Intuitive and straightforward interface. Neither programming nor specialized knowledge is required for the initial configuration of the program;
Supporting various operating systems. It runs on all Windows versions from Windows 2000 and higher (server and desktop systems). 32-bit and 64-bit systems are supported;
It is effortless to use! The configuration process is completely visual and has full context help. You can completely customize the application.