For Windows 2000 - Windows 11 (2019) (incl. Server, x86 and x64). Latest version: 2.11.5 build 1115. November 15, 2023.
Screenshot: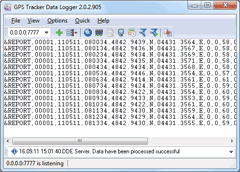 Features:
GPS Monitoring Web Server. You can use it as a Windows application, or as a web server for easy access via the Internet;
Roles and Users. You can assign user privileges and roles;
Integration. Thanks to GPS Tracker Data Logger, one server can support different models of tracking devices;
Maps. You can monitor a vehicle's location on the map (Google Maps or OpenStreetMap) in real-time;
Routes and waypoints. You can view a vehicle's route and check its sensor readings at waypoints;
Reports. You can easily generate a set of reports about state and movements of one or more vehicles;
Integration. You can customize the application's user interface for each user;
Supporting various operating systems. The application works on all Windows versions starting from Windows 2000 SP4. 32-bit and 64-bit systems are supported;
It is straightforward to use! The configuration process is completely visual and has full context help. You can completely customize the application.