For Windows 2000 - Windows 11 (2019) (incl. Server, x86 and x64). Latest version: 1.8.0 build 1128. November 29, 2022.
Screenshot: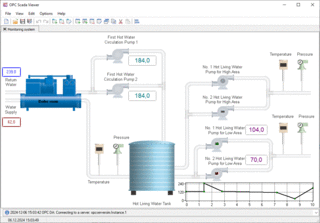 More screenshots
Features:
Retrieving data from one or several OPC servers simultaneously. You may configure the program to watch data from several OPC servers on one screen;
Displaying the value of OPC tags with the help of a wide range of indicators. The list of indicators includes analog and digital indicators, gauge, scale and level indicators, matrix indicators, graphs with history values, charts and much more;
Different indicators for different types of OPC tags. All indicators are divided into groups, that are depended on a supported data type: logical values, strings, integers, and fractions;
Customizable visualization parameters for each indicator. Most indicators allow to configure color and font type, limits and others;
Creating several tabs with different sets of indicators. Tabs allow put together several indicators as a group;
Background image. Using any image as the background image for indicators, that allows linking an indicator to a specific point of engineering process;
Visual and sound warnings. Visual and sound warnings when an OPC tag exceeds the specified limits allow to attract operator attention in critical situations;
Feedback. It is possible to write values to OPC servers. For example, you can rotate switchers for BOOL values;
Scripts. Multiple VB scrips for each visualization block;
Scaling. OPC value scaling using a user-defined expression like COS(X)+10;
Automatically controlling a connection and keeping it alive. This function allows to control the OPC server and try to restore the connection to the OPC server when the connection is broken;
Various OS. The program works on all Windows versions starting from Windows XP SP3, including servers and x64.