For Windows 2000 - Windows 11 (2019) (incl. Server, x86 and x64). Latest version: 1.0.4 build 412. January 31, 2023.
Screenshot: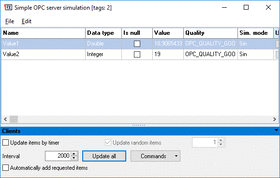 Features:
Flexible. You can add variables with different data types and simulation modes.
Easy to use. You can see all program settings in one window, which allows you to change any parameter quickly.
Portable. You can save all server settings and the OPC tags list to a file, and then load them from that file.
Data types. The program supports different data types for OPC tags.
Emulations. A timer can update any tag value or all tag values.
Tag tree. Tags can have a hierarchy structure.
Read/write. You can read OPC tag values and write a new value to an OPC tag.
Various OS. The program works on all Windows versions starting from Windows 2000, including servers and x64.