For Windows 2000 - Windows 10 (2016) (incl. Server, x86 and x64). Latest version: 1.0.8 build 328. March 28, 2019.
Screenshot: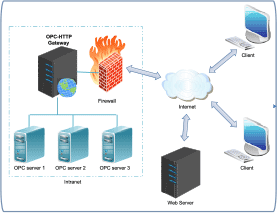 Features:
Retrieving data from one or several OPC servers simultaneously. You may use the gateway to connect and read data from several OPC servers at the same time;

Easy to use. OPC-HTTP Gateway has a built-in HTTP server. You do not need any 3rd party HTTP server on a computer with Windows and OPC servers;

Authorization. You may limit access to the gateway. Only authorized users and/or IP addresses will be allowed;

JSON. The gateway returns all responses in the JSON format that can be easily parsed and used in web applications or AJAX applications;

GET/POST. The gateway accepts standard GET/POST requests;

SSL. The web application can connect to the OPC gateway using SSL certificates and a secure channel;

OPC servers list. The web application can get a list of OPC servers from the specified host;

Tag tree. The web application can get a tag tree from each OPC server;

Read/write. You can read OPC tag values and write a new value to an OPC tag;

Service mode. OPC-HTTP Gateway can be automatically launched as a service even before any user logs on.

Supporting all Windows version. The program works on all Windows version starting from Windows 2000, including servers and x64.