For Windows 2000 - Windows 11 (2019) (incl. Server, x86 and x64). Latest version: 2.11.0 build 1129. November 29, 2022.
Data Encode
Latest version: 4.0.17 build 414. April 15, 2022.
With the "Data Encode" data filtration plugin, you can encode the values of given variables into a string of JSON, XML-RPC, or CSV data. These are common formats widely used in data processing applications. For instance, you can get a JSON string and then pass it to a web server or an MQTT broker using our data export modules.
How to enable this plugin
The figure below shows how to select the plugin on the "Modules" page.
Fig.1. Selecting the plugin.
How to configure the plugin
The figure below shows how to configure the plugin. Please, look at the documentation for the full description of all settings.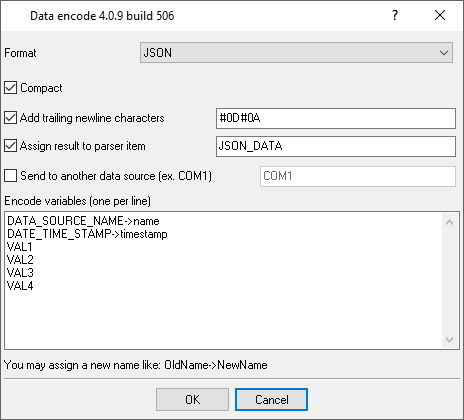 Fig.2. Configuring the plugin.