スクリーンショット: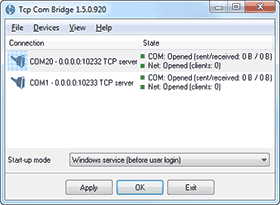 他のスクリーンショット
特長:
No borders. You can create connections for up to 256 physical or virtual COM ports.
Virtual COM ports. You don't even need to have any physical COM ports on your computer.
99.9% emulation. Other programs will not see any difference between a physical COM port and a virtual COM port created by TCP COM Bridge.
Network. You can transmit data using the TCP and UDP protocols both in the local network and over the Internet.
Flexibility. When enabling data exchange over the Internet, TCP COM Bridge can handle dynamic IP addresses via a domain name.
Use locally. You can also create local connections on one computer.
Serial port splitter. You can split data from one COM port into two or more streams (that is, use the program as a serial port splitter).
Serial port sharing. The program allows you to use one COM port from two or more applications.
Service mode. TCP COM Bridge can be automatically launched as a service, create virtual COM ports, and set up network connections even before any user logs on to the system.
Software reliability. Our drivers for virtual serial ports had been tested with the verifier under all modern OS since Windows XP SP2;
Hi-tech. TCP COM Bridge uses kernel driver technology and supports WDM, WMI, Power Management, PNP, etc.;
Easy-to-use. TCP COM Bridge software has a simple, menu-driven step by step set-up. Programming is not required to configure the software to configure virtual serial ports and COM-TCP connections;
On-line help. Press the F1 key at any time and on-line help will appear, providing concise and up to date documentation.