Tadiran Coral II (2 rows). SMDR/CDR data format and connection settings

This data is being extracted with help of the "Advanced PBX Data Logger" software only. It may not applicable for other software titles.


Connection parameters
Connect to the PBX using a terminal. The default parameters are:
Speed: 9600
Bits: 8
Parity: None
Flow Control: None
Press <ENTER>. You'll be asked for a password. If you don't know it then contact your supplier.
In the main menu type "SMDR", select "0" (Control), then select again "0" (Update),
Now you'll be asked a series of questions. The first is the trunk groups you want to monitor, to let the default settings press <ENTER>.
You must be sure that the following settings are like the below ones:
DISPLAY_IN: Y
DISPLAY_OUT: Y
DISPLAY_START_CALL: Y
ON_LINE_SERIAL_NO.: Y
ON_LINE 8_DIGIT_NPL: N
ON_LINE EXTENDED_SMDR_INFORMATION: Y
DISPLAY_INTERNAL_NETWORK_CALL: Y
DISPLAY_DNIS: Y
SMDR_DEST: 1
CHARGE_DEST: 3
CHK.IN/OUT_CHARGE_RESET: N
SINGLE_LINE_OUTPUT: N
NUMBER_OF_CALLS_PER_PAGE: 0
SMDR_START_CHARGE(sec): 0
SMDR_FREE_CHARGE (sec): 0
LONG_DIST:(Remove/DIGITS-(Charge/Online))
LONG_DIST1: NONE
LONG_DIST2: NONE
LONG_DIST3: NONE
LONG_DIST4: NONE
LONG_DIST5: NONE
Now select fields that will be displayed in reports as: (1,2,3,6,8,9,10,11,12). Note that 4, 5 and 7 are missing because they are included in additional info. Then go to the terminal settings typing "TERM" in the command line and specify the terminal number that you want to use. The PBX supports up to 4 terminals with numbers 0, 1, 2, 3. Usually 0 is used for programming and we would recommend to select another terminal.
You should change the terminal type to "COMPUTER".
Selecting the correct parser for Tadiran Coral II (2 rows)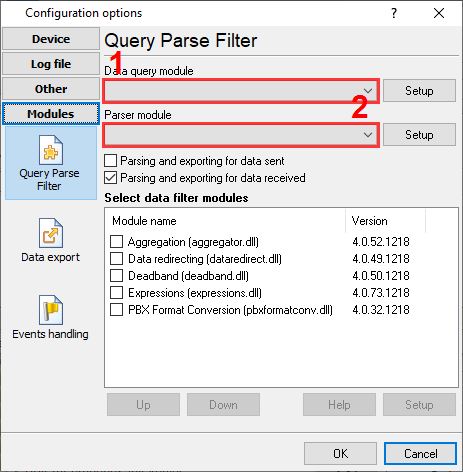 Tadiran Coral II (2 rows)
Tadiran Coral II (2 rows)
Data items
| Description | Data type | Column name |
| --- | --- | --- |
| Call time | datetime | CALL_TIME |
| Call duration | datetime | CALL_DURATION |
| Call duration (s) | integer | CALL_DURATION_S |
| Trunk G | string | FLAG1 |
| Trunk N | string | TRUNK |
| Cost | float | COST |
| Station | string | EXT |
| Code | string | AUTH |
| Direction | string | DIRECTION |
| Phone | string | DIALED_PHONE |
| Flag 2 | string | FLAG2 |
| Account | string | ACC |
Interested in reports for PBX usage?
We offer the PBX Reports utility with various manual, scheduled and email reports, built-in web-server, and other features. Look here
Want PBX call logs in a database?
This is the standard feature. The logger captures exports SMDR or CDR data in real-time to your database. Follow this link
Note: Products and companies mentioned here are used only for definition and identification purposes and can be trademarks and/or registered trademarks of the respective companies.