Latest version: 4.0.6 build 911. September 22, 2023.
The Geo Export module is intended for creating track files in various popular formats such as KML, GPX, Google Earth, and others. The module receives coordinates and additional data and then saves them in a file in real-time.
Since coordinates are a mandatory requirement for creating a file, the module is mainly used with our Advanced NMEA Data Logger and GPS Tracker Data Logger programs, which are used in work related to geolocation. The module can also be configured to work with other data sources in other data loggers that receive coordinates. For example, Advanced Serial Data Logger can add a placemark from a GPS receiver connected to COM1 to data that is received via COM2.
The module can simultaneously create files in several formats and generate a new file according to the schedule.
List of supported formats:
Google Earth KML (waypoints)
Google Earth KML (tracks)
Google Earth KML (polyline)
GeoJSON
GPX
OpenGIS GML
How to enable this plugin
The figure below shows how to select the plugin on the "Modules" page.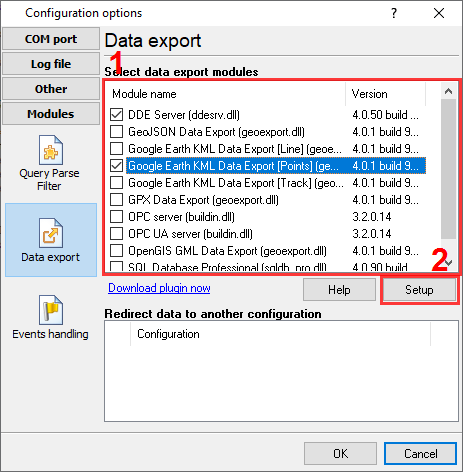 Fig.1. Selecting the plugin.
How to configure the plugin
The figure below shows how to configure the plugin. Please, look at the documentation for the full description of all settings.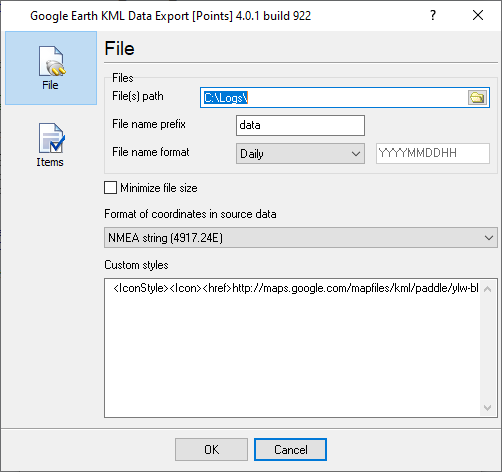 Fig.2. Configuring the plugin.