For Windows 2000 - Windows 11 (2019) (incl. Server, x86 and x64). Latest version: 4.7.2 build 816. August 16, 2023.
Ideal tools for energy audits, the Advanced Serial Data Logger and Advanced TCP/IP Data Logger software can capture kWh/kW energy and demand data as well as virtually all relevant energy parameters for diagnostics and monitoring. Both programs support three-phase or single-phase MODBUS-compatible power and energy meters.
The Windows-based computer can log an unlimited amount of data in a database. A simple SQL query can tell you how much power is being consumed by various household electronics and large scale multi-circuit power meters. You can monitor multiple independent loads without having to purchase expensive energy monitors.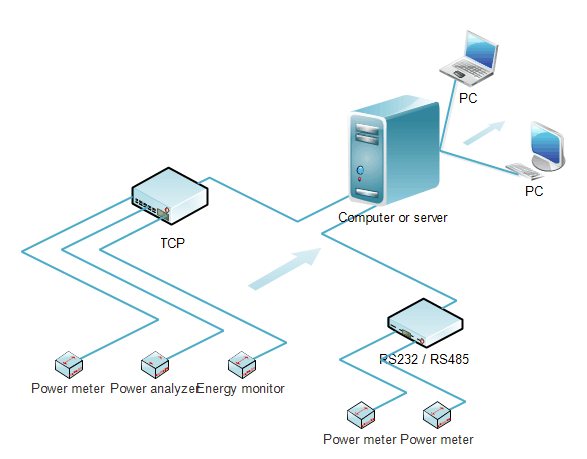 Our data loggers can export data from power meters to Excel in real-time. So, you may do a simple analysis of your energy data there.
Our power data loggers support a wide variety of power meters and power analyzers, including three-phase, single-phase devices.
What data can the logger read from power meters?
The basic data set of a simple power meter includes:
Energy meter's current data (ampers, volts, frequency, power factor, etc.).
Energy data (active and reactive energy).
Advanced power meters can also provide more parameters.
Demand energy.
Apparent energy.
Power quality parameters for several harmonics.
When you need our data loggers?
You want to integrate different power meters or energy meters into one system.
You need a simple power measurement solution in your office (the logger + Excel).
You do not know programming and other specialized power monitoring systems.
How to start read data from your power meter?
Connect your meter to a computer using MODBUS RTU or MODBUS TCP (tutorial).
Follow our tutorial for the corresponding power meter or power analyzer type.
Configure the export of your power meter data to Excel or a database (tutorial).