For Windows 2000 - Windows 11 (2019) (incl. Server, x86 and x64). Latest version: 4.4.21 build 527. May 27, 2022.
Wouldn't it be great to have an easy tool that can help you debug your communication protocol? Would you like a tool that will help you analyze and troubleshoot RS232 communications in your work?
It is an RS232 analyzer software that is supposed to help you study the communication protocol and data transfer between your computer and equipment or between two serial devices working through the RS232/RS485/RS422 interface.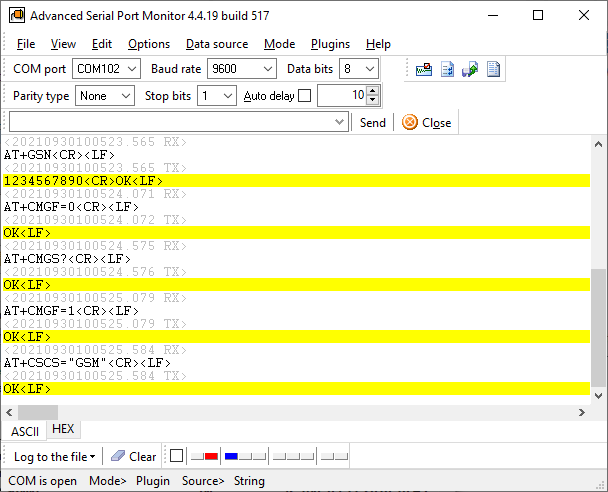 How can I analyze an RS232/RS485 line using Advanced Serial Port Monitor?
Start Advanced Serial Port Monitor.

Select the necessary mode (look at the "Mode" menu and answers about methods below).

Select the necessary RS232 port number from a drop-down menu.

Start port monitoring by clicking the "Open" button.

Select an appropriate data view mode between ASCII and HEX.

Monitor RS232 traffic in real-time, or start saving it using the "Write to file" button.

Close the monitoring sessions by clicking the "Close" button.
Download a Free Trial Version
Analyze RS232 Interface
FAQ about RS232 analyzing in using Serial Port Monitor by AGG Software
Can I analyze data between two external devices?
Yes, you can use a special RS232 monitoring cable. In this mode, the program can capture RS232 communications separately for TX and RX lines.
Does the program support full-duplex in RS232 protocols?
Between a peripheral serial device and a computer: it works by default without any actions from your side, and it does not require additional hardware.
Between two serial devices: you should use the RS232 monitoring cable for full-duplex and select the Dual COM Port Monitoring mode in Serial Port Monitor.
Can the program work with the MODBUS protocol?
The program supports the MODBUS RTU and MODBUS ASCII serial protocols. It can decode serial traffic to readable values using a plugin module (free add-on).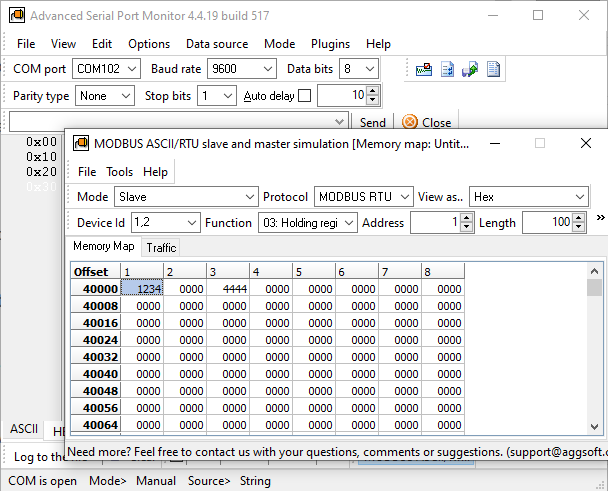 Can implement an RS232/RS485 analyzer and watch serial protocols without a breakout cable?
You can watch real-time communications between your serial application and a peripheral device using the "Spy" mode. In this mode, our utility monitors data transfer and all COM port activity of another program, as if "dropping in" between the serial interface and the studied program. It can work on any baud rates (it does not matter because the program intercepts data exchange in the driver).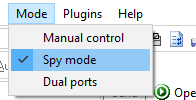 What about USB ports?
The serial port analyzer can also receive data from USB to RS232 adapters (RS232-USB cables) because when you attach a USB cable to your host computer, Windows creates a virtual COM port for it. Also, this port type allows you to monitor and control signals on an RS232 line.

Serial Analyzer Features
| | |
| --- | --- |
| Monitoring of serial communication over RS-232 interface | Yes |
| Monitoring of serial port traffic over RS485/RS422 with a hardware converter | Yes |
| Virtual environment and virtual machines | Yes |
| Serial port sniffer mode | Yes |
| Logging to a file | Yes (Binary or Text) |
| Advanced Serial Protocol Analyzer | MODBUS RTU & ASCII |
| Monitoring activity of other software applications | Yes |
| Proprietary protocols | No |
| Advanced Features (dual ports mode, plugins, ports autodetection) | Yes |
| Remote monitoring | No |
Download a Free Trial Version
Try Advanced Features and Plugins
Alternative free serial port monitoring utilities
Portmon monitors Windows kernel-level I/O packets sent/received between serial port device drivers and Win32.
Free Serial Port Monitor lets you record RS232 data into a text file and test serial communication between COM devices and applications. In contrast, Free Serial Port Monitor only supports basic functionality like receiving and sending data over a single serial connection. Moreover, there is no way to decode messages into human-readable form.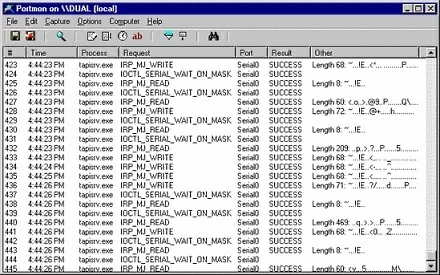 Alternative hardware port monitoring solutions
EZ-Tap Pro™ by Stratus Engineering offers the highest-performing sophisticated protocol analyzer and RS232 sniffer that works with the RS232 interface and requires the FREE EZ-View monitoring software.
IO Ninja by Tibbo is a professional all-in-one terminal emulator, sniffer, and protocol analyzer to monitor RS232 communication. IO Ninja is highly modular and has plugins for most transports.
How can RS232 Protocol Analyzer help you to improve your work?
You can't track data between RS232 serial ports & computers without using a serial port monitor. Some readers might not realize that this kind of monitoring also helps provide solutions through many different ways, including displaying, logging, monitoring, and analyzing the serial port activity of systems.
Eliminate RS232 cables
Using an RS232 analysis software product can save your company time and money. It does not require complicated wiring for the computer system to be linked to the monitoring device, and this can be a benefit as it can save time.
Multiple serial ports at the same time
Start several instances of our serial/RS232 analyzer and monitor several RS232 ports at once. Of course, you can use entirely different settings in each copy.
Easy-to-use
The RS232 monitoring tool does not require special knowledge, and students and professionals can use it. You can use the RS232 monitor without any programming skills.
Conclusion
Nevertheless, we recommend using Advanced Serial Port Monitor instead of PortMon and other free utilities, since it has more features and better performance per its cost.
Advanced Serial Port Monitor provides many useful functions such as viewing raw binary data, decoding messages into human-readable text, displaying packet headers, etc. The tool displays incoming and outgoing bytes, characters, strings, frames, and other data types. You may choose one of three different views: ASCII, Hexadecimal, and Binary.
Download a Free Trial Version
Eliminate RS232 cables