For Windows 2000 - Windows 10 (2019) (incl. Server, x86 and x64). Latest version: 4.4.19 build 517. May 18, 2021.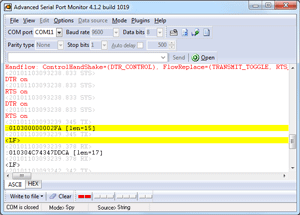 What is the RS232 analyzer? It is a program that is supposed to help you in studying the protocol of data transfer between your computer and equipment, or between two devices working through the serial interface. RS232 monitor must allow the setting of communication parameters, such as the number of data bites, speed, and so on.
RS232 analyzer must allow viewing data transfer on the screen in a random mode (hexadecimal, decimal, or any other). This will allow you to find the repeated sequence of data blocks and trace down the data transmission without leaving the RS232 analyzer. If the RS232 analyzer allows monitoring the state of connection lines (signals DTR, CTR, CTS etc.), you can analyze the possibility of using these lines to organize connections.
Another important feature of the RS232 analyzer must be the possibility of saving sent and received data into a file for future analysis. The regime of file formation in the RS232 analyzer must be flexibly set. This will allow you to save time when analyzing a significant volume of data recorded by the RS232 analyzer.
Our program can be easily turned into a powerful flexibly set the RS232 analyzer. Just download and install the program, then start it. Choose serial port in the list and click the "Open" button. Here! You have a multi-benefit tool at your disposal.
Recording into a file can be easily turned on/off by one mouse-click, efficiently saving into a file only the data necessary to analyze.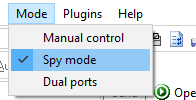 Our RS232 analyzer also has a unique ability, which you will not find among the abilities of other RS232 analyzers. It can work in the "Spy" mode. In this regime, the RS232 analyzer monitors the data transfer of another program, as if "dropping in" between the serial interface and the studied program. This allows studying the peculiarities of the work of the program. Suppose you have developed the studied program. In that case, the RS232 analyzer can be easily turned into the RS232 debugger, which will allow you to trace down the mistakes that emerge in data communications.
All the abilities of the RS232 analyzer are present in our Advanced Serial Port Monitor program!

Download the trial version now. It's quick, and it's free!