For Windows 2000 - Windows 10 (2019) (incl. Server, x86 and x64). Latest version: 4.4.19 build 517. May 18, 2021.
Serial port sniffer is a program that monitors the data transfer carried out by another program, "dropping in" between the serial interface and the studied program.
Serial port sniffer allows studying the peculiarities of your program or any other Windows program. If you have developed the researched program, Serial port sniffer turns into then RS232 debugger, which will allow you to trace down the mistakes appearing in the process of data exchange. Our program's serial port sniffer mode is called "Spy" and is activated in the main window in the "Mode" menu.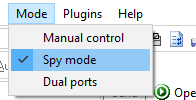 Switch over to the serial port sniffer only BEFORE the studied /investigated program is started. Otherwise, the serial port sniffer will not be able to access the serial port and, consequently, will not perform its functions.
Our serial port sniffer allows monitoring data transfer on the screen in a random mode
This will enable you to find the repeated sequence of data blocks and trace down the data transmission without leaving the port sniffer.
In the serial port sniffer mode, the program traces down both the transferred and the received traffic. The outgoing data can be highlighted on the serial port sniffer screen. This option can be turned on in the options on the tab under "Other → Data view".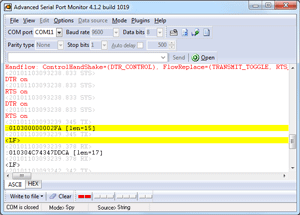 Another important property of our serial port sniffer is the ability to save both sent and received data into a file for future analysis. The regime of file formation of the serial port sniffer is flexibly set, which allows saving time when analyzing a big data volume recorded by the serial port sniffer.
Our program is very easily turned into a powerful flexibly set serial port sniffer. Just download and install the program, then start it. Choose the "Spy" mode in the main "Mode" menu. Then choose the serial port and click the "Open" button. Don't forget that this should be done before the investigated program is started. And that's it. Now you have a multi-benefit tool at your disposal.
Compared with other serial port sniffers, our Advanced Serial Port Monitor has several unique features:
The serial port sniffer can work with all Windows versions, beginning from Windows 2000 to Windows 10 x64;
The port sniffer allows monitoring data transfer on all communication ports installed in the system. The number of the communication port may vary from 1 to 255.
The serial sniffer allows monitoring the traffic transmitted during the dial-up connection.
All the abilities of serial port sniffer are realized in our program Advanced Serial Port Monitor.

Download the trial version now. It's quick, and it's free!