For Windows 2000 - Windows 10 (2019) (incl. Server, x86 and x64). Latest version: 4.4.19 build 517. May 18, 2021.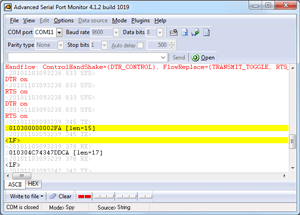 What is the RS232 monitor? It is a program that can send and receive data through the serial port. RS232 monitor allows you to set up the parameters of communication, such as the number of bites given, speed, and so on.
RS232 monitor also allows you to watch data transmission on the screen. If the RS232 monitor allows saving data in a file, it is an additional advantage of the software.
Our program can:
The program is for work with a serial port (RS232, COM port, UART) on x86 or x64 compatible computers under Windows support and has the following capabilities:
It can transmit of any data in both directions (from and to computer) in duplex mode (receive and transmit at the same time);
It can work in the manual control mode;
It can work in the Spy mode when it captures data exchange of other applications;
It allows using any data source (input string or file);
It can output of received data to file;
The program has flexible connection settings (baud rate, data bits, etc.);
It includes a rich set of plug-ins;
It has a friendly, completely setup interface.
Our program can easily be turned into a powerful and flexibly set RS232 monitor. All you will have to do is download and install the program. Then start it. Select "COM port" in the list, then click the "Open" button. There! Now you have a multi-benefit tool at your disposal.
Recording into a file can be easily turned on/off by one mouse-click. Having done this, you will turn the RS232 monitor into an RS232 data logger.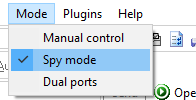 However, our RS232 monitor has one unique ability, which you will not find among the abilities of other RS232 monitors: our RS232 monitor can work in the "Spy mode. In this mode, the RS232 monitor can watch another program's data transfer, thus as if "dropping in" between the serial interface and the investigated program.
All the abilities of the RS232 monitor were realized in our Advanced Serial Port Monitor!

Download the trial version now. It's quick, and it's free!