For Windows 2000 - Windows 11 (2019) (incl. Server, x86 and x64). Latest version: 3.9.8 build 1115. November 15, 2023.
Add timestamp in CSV file or Binary log file

Print version
Problem scenario:
I would like to create CSV files or binary log files with OPC Data Logger. I have made files that contain the data I would like, at an acceptable sample rate, but I can not make a timestamp appear in the CSV file.
Requirements:
Advanced OPC Data Logger Professional, Enterprise, or a trial version.
It is assumed that:
You've created a configuration (using the "Green Plus" button in the main window and added an OPC group in the OPC logger and can receive any data from the selected OPC server.
Solution:
CSV files
You need to change the OPC group settings to export a timestamp (fig. 1). In this case, you'll get a timestamp in the first column of a CSV file.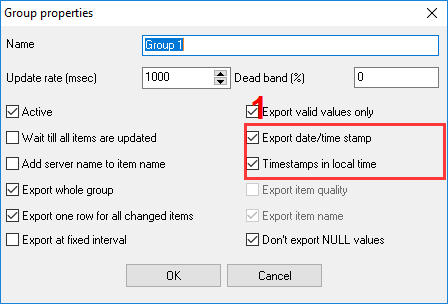 Fig.1. OPC group settings
Binary log files
You need to activate the "Write date/time stamp" option in the log file settings (fig. 2). The format of the timestamp can be adjusted in the program settings. The timestamp will appear above a row with OPC data.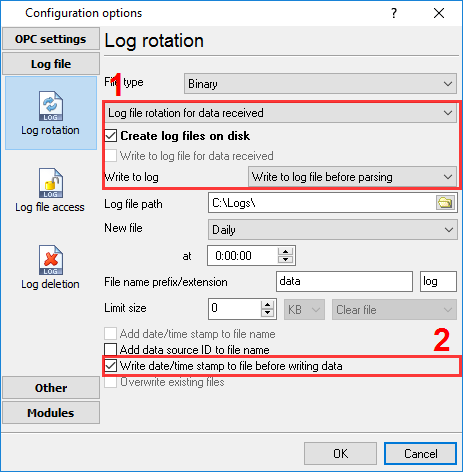 Fig.2. The log file settings
Related articles:
OPC and DCOM Configuration on Windows 2008 and Windows 7
OPC and DCOM Configuration on Windows Server 2012 and Windows 8