For Windows 2000 - Windows 10 (2016) (incl. Server, x86 and x64). Latest version: 4.4.2 build 807. August 7, 2019.
MODBUS to MySQL: Writing MODBUS values to MySQL database

Print version
| | |
| --- | --- |
| | Advanced Serial Data Logger you can download here. Plugins can be downloaded separately here. |
Configuring how to write MODBUS data to a MySQL database is very much similar to configuring how to write data to MSSQL. Only main differences are described in this manual.
1. Download and install the 32-bit version of MySQL ODBC Connector (the ODBC driver) for MySQL from mysql.org.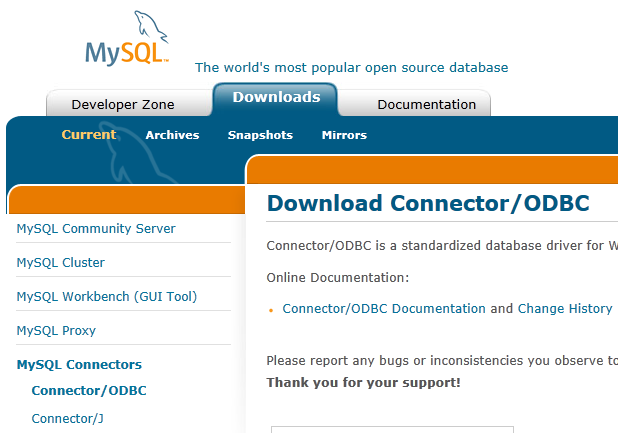 Fig. 1 Driver section
2. The structure of a table in the database will look like this:
CREATE TABLE `modbus_data_2` (
`REC_ID` int(11) NOT NULL AUTO_INCREMENT,
`TIMESTAMP` datetime NOT NULL,
`ITEM1` int(11) DEFAULT NULL,
`ITEM2` double DEFAULT NULL,
PRIMARY KEY (`REC_ID`)
) ENGINE=InnoDB DEFAULT CHARSET=latin1;
If you specify any other data type than String for ITEM1 or ITEM2 in the MODBUS settings, you should create the columns of the corresponding types while creating a table.
3. Create an ODBC data source for your MySQL database.
4 Follow steps #1-9 from the previos tutorial for MS SQL: "Writing MODBUS values to MS SQL".
5. During "Binding", you should take into account that the names of the table and its columns are case-sensitive in MySQL.
Related articles:
MODBUS RTU, MODBUS ASCII, MODBUS/TCP
IEC 62056-21