Advanced TCP/IP Data Logger
Trust In Confidence!
For Windows 2000 - Windows 11 (2019) (incl. Server, x86 and x64). Latest version: 4.6.7 build 1115. November 15, 2023.
MODBUS power meter data logging (easy method)

Print version
Problem scenario:
My goal is to read values from a power meter with MODBUS RTU or MODBUS/TCP.
Requirements:
It is assumed that:
You have configured the communication settings on the device:
MODBUS TCP - IP address, Subnet, Gateway. You must assign a static IP address for the device.
MODBUS RTU - the baud rate and the number of data bits.
Solution:
1. Open the configuration window for the "MODBUS TCP" or "MODBUS RTU" plugin accordingly (fig. 1).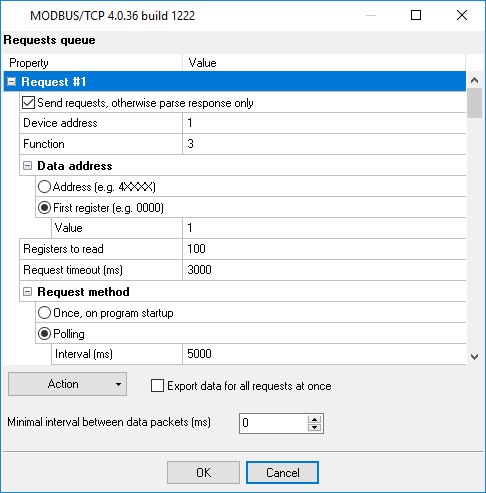 Fig. 1: Configuration window
2. Click "Action - Add from registers map" (fig. 2).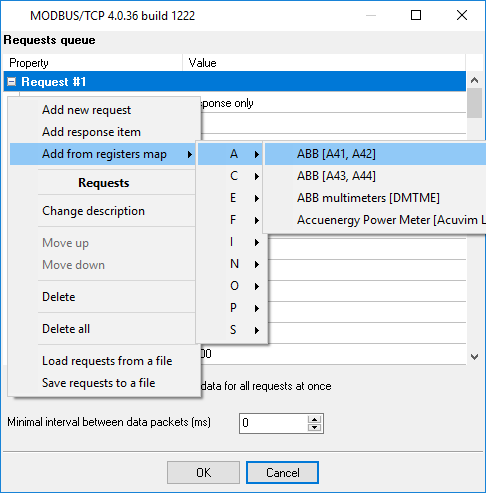 Fig. 2: Selecting registers map
3. Select the necessary registers (fig. 3).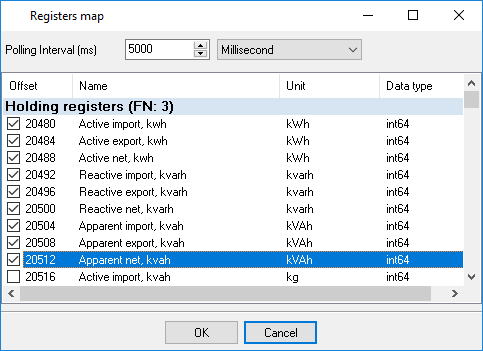 Fig. 3: Registers map
4. Adjust the polling interval as you want.
5. Click the "OK" button. The program will build one or more requests and add them to the queue.
6. Enable the "Export data for all requests at once" option.
7. Specify the same device address in the "Device address" field (fig. 1) for all requests.
RS-485: if you've connected several devices to the RS-485 network then you may specify several addresses like 1,2,3,4,5
MODBUS/TCP and Ethernet: the device address should be "1". In the TCP settings, you must specify an IP address for each MODBUS device separately.
Find the register map for your MODBUS device:
If your device is not in this list, please search in our database (specify the full name: manufacturer and model):
Built-in register maps:
A

ABB (-3P81-)
ABB (3P86)
ABB (3P88)
ABB (3Q4200)
ABB (B21)
ABB (B23,B24)
ABB (M2M,DMTME)
ABB (M4M)
ABB (Trio 50,Trio 60)
ABB (UNO DM PLUS)
ABB A41-A42
ABB A43-A44
ABB DMTME multimeters
Accuenergy (AcuRev 1300)
Accuenergy (Acuvim II)
Accuenergy (DV300,EV300)
Accuenergy Acuvim L Power Meter
Acrel (ACR10R)
Acrel (ADL100)
Acrel (ADL300)
Acrel (ADL3000)
Acrel (PZ300)
Acrel (PZ72-E3,P80-E3,PZ96-E3)
Acrel (PZ80)
Acrel (PZ96)
Algodue (UPM209)
Algodue (UPM215,UPM310,UPM315,UPM3060,UPM3080)
Algodue (UPM309)
Allen Bradley (PowerMonitor 3000)
Arch Meter (PA310)
Arch Meter (PA33)
Arch Meter (PA34)


B

Baker Hughes (SureSens SDA)
Bytronic (By4100)
Bytronic (By6150)
Bytronic (By8700)


C

Carlo Gavazzi (EM100,ET100)
Carlo Gavazzi (EM111,EM112,ET112)
Carlo Gavazzi (EM24)
Carlo Gavazzi (EM26)
Carlo Gavazzi (EM270)
Carlo Gavazzi (EM271)
Carlo Gavazzi (EM300,ET300)
Carlo Gavazzi (EM33)
Carlo Gavazzi (WM14, CPT A)
Carlo Gavazzi (WM30, WM40)
Carlo Gavazzi (WM3-96)
Carlo Gavazzi EM21
CET (PMC-220)
CET (PMC-350-C)
CET (PMC-43)
CET (PMC-53)
CET (PMC-53A)
CET (PMC-D721MD)
CET (PMC-D726M)
Cewe (CDM)
Cewe (Prometer)
Chint Instrument (DDSU666-H)
Chint Instrument (DSU666,DTSU666)
Chint Power (CPS)
Circutor (CVM-C10)
Circutor CVM144
Circutor CVM-MINI
Circutor CVM-NRG
Continental Control Systems (WattNode)
Crompton (Integra 1200)


D

Delab (PQM)
Delta (DPM 520)
Delta (DPM 530)
Dent Instruments (PowerScount 3037)


E

Eastron (SDM120)
Eastron (SDM220)
Eastron (SDM230)
Eastron (SDM320)
Eastron (SDM630)
Eastron (X96)
Eaton (IQ DP 4000)
Eaton (IQ100 series,IQ130,IQ140,IQ150)
Eaton (Power Xpert Meter,PXM 1000)
Eaton (PXM 2000)
Eaton IQ250-IQ260 Power Meter
EDME (Genius Mk6)
EDMI (Atlas MK10)
EDMI (Atlas MK7)
Electrex (Est)
Electrex (Exa)
Electrex (Femto)
Electrex (Flash 96)
Electrex (Flash D)
Electrex (Mico)
Electrex (Plus)
Electrex Kilo
Electro Industries (Shark 250)
Electro Industries Shark 200
Electro Industries Shark 50
Electropribor (SHCH 02,72,96,120)
Electropribor (SHCHCH,SHCH)
Electropribor (SHCHP 02,72,96,120)
Elmeasure (Basic Power Meters,Alpha Plus,Omega)
Elmeasure (Energy Process Monitor)
Elmeasure (Little Genius Plus)
Elmeasure (MPS8000,MPU5110)
Elmeasure (Prepaid 1P,Prepaid 3P)
Elnet (GR,PQ,LT,LTP,MC,PIC,LTE,LTC)
Elspec (EQC ACR)
Elspec (G4400)
Elster (A110C,A1100)
Elster (A1140,A1700)
Enerdis (Enerium 100-200)
Enerdis (Enerium 30)
Enerdis (Enerium 50-150)
Enerdis (Enerium Power Monitor 100-200-300)
ENTES (EMM)
ENTES (EPM-07)
ENTES (EPR04)
ENTES (ES32)
ENTES (MPR1 Series)
ENTES (MPR2 Series)
ENTES (MPR3 Series, MPR4 Series)
ENTES (MPR60)
ENTES (MPR63)
ENTES (MPR7 Series)
Epever (B Series)
Epsolar (LS-B Series)


F

Farnell iEM3100-iEM3200
FF (LE-03MQ)
Finder (Series 7E,7E64,7E68,7E78,7E86)
Forlong (DRS 202C,DRT 301C)
Forlong (DRS 202M)
Forlong (DRT 301C-II)
Forlong (DRT 301M)
Frako (EMA1496)
Fronius (Primo 4)
Fronius (Primo 5)
Fronius (Symo 10.0-3-M)
Fronius (Symo 20.0-3-M)
Fronius (Symo 6)
Fronius Inverter (110,111.112,113)
Fronius Inverter (Common)
Fronius Power Meter (210,211.212,213)


G

GE (EPM 5100)
GE (EPM 5300)
GE (EPM 6000)
GE (EPM 7000,EPM 7100)
Ginlong Solis (PV)


H

Hager (ECN,ECP,ECT,ECM,ECR,ECA)
Herholdt Control (ECSEM,ECSAN,ECSPM)
Herholdt Controls (ECS)
Herholdt Controls (M1PRO,M3PRO)
Heyuan (DZ81-DZS310)
Heyuan (DZS310)
Heyuan (DZS900)
Heyuan (MA3UI5C)
Hiking (DDS238-1-ZN)
Hobut (M550,M560)
Hobut (M553)
Hobut (M850 DC)
Hobut (M850 LTHN)
Hobut (M850 MP1)
Hobut (M880)
Honeywell (EEM230)
Huawei (SmartLogger)
Huawei (Solar Inverter)
Huawei (Sun2000)
Huawei (Sun2000)-env


I

IME (Conto D2)
IME (Nemo 72)
IME (Nemo 96)
IME (Nemo D4-DC)
IME (Nemo D4-LE)
IME (Nemo D4-LP)
Inepro Metering (PRO1)
Inepro Metering (PRO2)
Inepro Metering (PRO380)
Integra Ci1
Integra Ci3-Ri3
I-Real (WS0101)
Iskra (ECS3)
Iskra (MT880,CM-f3e)


J

Janitza (B21,B23,B24)
Janitza (ECS)
Janitza (UMG103)
Janitza (UMG104)
Janitza (UMG511)
Janitza (UMG604)
Janitza (UMG605)
Janitza (UMG96)
Jiangsu Sfere Electric (D1900)
Jiangsu Sfere Electric (D1900, 3 phases)
Jiangsu Sfere Electric (Sfere 720)


K

KACO new energy (blueplanet 3.7 TL1)
Kael (Energy 01)
Kael (Energy-02-PC-96)
Kael (Multimet-01-PC-96)
Kael (Multiser 01,Multiser 11,Multiser 13)
Kael (Multiser 01-96,Multiser 11-96)
Kael (Multiser 02,Multiser 21)
Kael (Multiser 05,Multiser 52,Multiser 53)
Kael (Multiser-03-PC-TFT)

Kael (Multiser-04-PC-TFT)
Kael (Varkombi-18-PC-TFT)
Kamstrup (Multical)
Klemsan (KLEA 110P,ECRAS,POWYS)
Klemsan (KLEA 220P,POWYS 3121)
Klemsan (KLEA Energy Analyzer)
Klemsan (Rapidus)
Kohler (Decision Maker 340)
Kohler (Decision Maker 3500)
Kohler (Decision Maker 550)
Kohler (Decision Maker 6000)
Kohler (M340)
Kohler (MPAC 1000)
Kohler (MPAC 1500)
Kohler (Power Monitor)
KOSTAL (KOSTAL Smart Energy Meter)
Kostal (Piko IQ,Plenticore)
Kraft (FlexKraft Dual)
Kraft (FlexKraft Single)
Krohne (IFC050)


L

Landis Gyr (E650,Gateway,Meter 1)
Landis Gyr (E650,Gateway,Meter 2)
Landis Gyr (E650,Gateway,Meter 3)
Landis Gyr (E650,Gateway,Meter 4)
Larsen Toubro (ER300P)
Larsen Toubro (Quasar)
Larsen Toubro (Vega)
Lifasa (Master Control Var Fast)
Lifasa (Master Control Var)
Lifasa (MCA PLUS II)
Lovato (DME)
Lovato (DMG210,DMG300,DMG700,DMG800)
Lovato (DMK40)
Lovato Electric (RGK800)


M

Masibus (PM2160-3P3W)
Masibus (PM2160-3P4W)
Meatrol (ME237)
Meatrol (ME437)
Meatrol (ME631)
Meatrol (MP440)
Mennekes (AMTRON HCC3)
Metering Dynamics (SmartHub)
Mikro (DPM380)
Mikro (DPM680)
Mikro (PFRLCD)


N

National Meter Industries Series 3000 4000
Noname (DDM18SD,MMD18SD)
Northern Design Cube 300 Modbus
Northern Design Cube 350 Cube 400 Rail 350 Modbus
Northern Design MultiCube Modbus
Northern Design PM390
NZIF (SET-4TM)


O

Obvius (A90DC-12)
Odenberg HALO Sorter
Ohio Semitronics (WVx,WTx,WMx)
Omega (CN7200,CN7500,CN7600,CN7800)
Orno (OR-WE-514,OR-WE-515)
OutBack Power (MATE3S)
Owen Brothers (OB115)
Owen Brothers (OB415)
Owen Brothers (OB418)
Owen Brothers (OB735)
Owen Brothers (OB737)


P

Phoenix Contact (EEM-EM3xx,EM325,EM355,EM375,EM327,EM357,EM377)
Phoenix Contact (EEM-MA,EEM-MA3xx)
Pilot (PMAC735)
Pilot (SPM32)
Pilot (SPM33)
Pilot (SPM91)
Pilot (SPM93)
Pilot PMAC770
Power One Inverter (PVI,Aurora Central)
PowerScout 3-8 ViewPoint


R

Rayleigh Instruments (RI-D140)
Rayleigh Instruments (RI-D35)
Rayleigh Instruments (RI-F100)
Rayleigh Instruments (RI-F200)
Rayleigh Instruments (RI-F220)
Rayleigh Instruments (RI-F300,RI-F400)
RISH (EM1300,EM2300,EM13XX,EM23XX)
RISH (LM1350,LM1360)
RISH (RM1300,RM2300)
RISH (RM3430i)
RISH (RM3440)
RISH (RM3440i)
RISH (RM3490)


S

Saci (AHM1)
Saci (ANG96)
Saci (M2DL2)
Saci (TCIL2)
SAIA Energy Meter ALD1-ALE3-AWD3
SATEC Powermeters
Schneider Electric (CM2000)
Schneider Electric (EM1000,EM1100,EM1200)
Schneider Electric (EM3502,EM3550)
Schneider Electric (EM4200)
Schneider Electric (EM6400)
Schneider Electric (EM6400NG,PM2100,PM2200)
Schneider Electric (EM7200)
Schneider Electric (EMB,EME)
Schneider Electric (iEM3000)
Schneider Electric (PM600)
Schneider Electric (PM700)
Schneider Electric (PM8000)
Schneider Electric (PVSCL20E)
Schneider Electric (Sepam 40)
Schneider Electric (Sepam 60)
Schneider Electric (Sepam 80)
Schneider Electric (Symmetra PX)
Schneider Electric PM1000 PM1200
Schneider Electric PM5100 PM5300
Schneider Electric PM5500
Schneider Electric PM800
Schneider Electric PM9C
Schneider Electric PowerLogic EM4800
Schneider Electric PowerLogic ION6200
Schneider Electric PowerLogic ION7300
Schneider Electric PowerLogic ION7400
Schneider Electric PowerLogic ION7500-ION7600
Schneider Electric PowerLogic ION7550-ION7650
Schneider Electric PowerLogic ION8300-ION8400-ION8500
Schneider Electric PowerLogic ION8600
Schneider Electric PowerLogic ION8800
Schrack (NA96).xml
Schweitzer Engineering Laboratories (SEL-735)
Secure (Elite 103,Elite 303, Elite 307)
Secure (Elite 440)
Selec (EM2M-1P)
Selec (MFM374)
Selec (MFM383A)
Selec (MFM384)
Seneca (S203)
Seneca (S604)
Seneca (S700)
Seneca (Z203)
Siemens (SEM3 Dual Phase)
Siemens (SEM3 Single Phase)
Siemens (SEM3 Three Phase)
Siemens (Sentron PAC 3100)
Siemens (SICAM P)
Siemens Sentron PAC 2200
Siemens Sentron PAC 3200
Siemens Sentron PAC 4200
Sigineer (Grid Inverter)
Sinotimer (DDS578)
SMA (Solar Inverter)
SmartProcess SMARTRAIL X835
Socomec (DIRIS I31)
Socomec (DIRIS U10)
Socomec (DIRIS U20)
Socomec (DIRIS U30)
Socomec (DIRIS,D30,D50,D70)
Socomec (Multis L20, Multis L40)
Socomec Countis E03
Socomec Countis E04
Socomec Countis E13
Socomec Countis E14
Socomec Countis E23
Socomec Countis E24
Socomec Countis E33 E43
Socomec Countis E34 E44
Socomec Countis E50 E53 E50R E53R
Socomec Countis E63
Socomec Countis ECI2
Socomec Countis ECI3
Socomec DIRIS A20 modbus
Socomec DIRIS A40-A41-RS485
Socomec Masterys
Socomec NETYS PR NETYS RT ITYS
SolarEdge (SE10K)
SolarEdge (SE12.5K)
SolarEdge (SE3000H)
SolarEdge (SE3800)
SolarEdge (SE4000H)
SolarEdge (SE5000)
SolarEdge (SE5000H)
SolarEdge (SE5K)
SolarEdge (SE6000H)
SolarEdge (SE7K)
SolarX Power (Hybrid X1,Hybrid X3,X1AC)
Sungrow Inverter (SG)


T

Tense (TPM 05)
Trinity (EM9400)
Trinity (Goblin)
Trinity (Infinity)
Trinity (PowerPro)
Trinity (Xpert)
Tyco Electronics (Integra 1630)


U

Ulys (MD45)


V

Veris (E23)
Veris (E34)
Veris (E50)
Veris (E51)
Veris (H8035,H8036)


Y

YTL (5300)
YTL (DDS353H,5281,5282,5283)


Z

Ziegler (Delta Energy)

Related articles:
MODBUS RTU, MODBUS ASCII, MODBUS/TCP
BACNET/IP